Coming off the lack of sleep last night.
How excited was I to head to a girls night with the CanadaCrew girls.
5 of us and Vietminese Pho at a place on Spadina called Pho Hung.
I'm going to pretend that I wasn't a little perturbed at Laurel who insisted we change the location.
And then she didn't show up.
Granted she had a perfectly good work excuse.
So I tried to just let it go.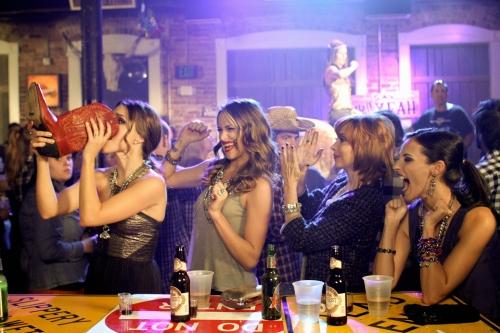 It wasn't a crazy night like this. But we had lots of laughs and fun. Pic from here
And I couldn't wipe the smile off my face.
I was so so happy.
Finally feeling like I'm getting my groove and making new girlfriends.
We are also going to do a bookclub during these cooler months.
I practically skipped downtown all the way to my car.
Then I made the mistake...
Then I called my parents because I had made dinner reservations on July 6th with the thought that we just might be celebrating Christmas in Florida.
To one of my bucket list restaurants...Victorias and Alberts in the Grand Floridian (@ Disney).
As in I made a reservation on July 6th for December 29th and I still didn't get my prefered table!
So being that it is in Disney and my parents place is in Delray Beach...I called tonight to suggest we get a hotel there (about 3-3.5 hours away).
Only my mom BLEW up at me.
Saying I NEVER said it was at Disney (ummm I know I did).
Then she informs me that now in our little Florida house not ONLY is it going to be my parents, my brother and me (as I was originally told)...4 people 2 bathrooms one living space = already being in everyones face a little much especially because I was going from the 22nd-1st.
But NOW its going to be my uncle and his 4 kids and my grandma too.
Please add that up...now its 10 people...2 bathrooms.
And since I did (mistakenly already screwed up the date of my dinner reservation I said it was the 26th but as I checked my email now it is on the 29th)...my parents are like cancel it.
This is the ONE activity I wanted to do over Christmas.
My mom then yelled at me that I was being a brat and that they didn't want to go now.
Of course than I was irritated because of all the extra house guests.
You've GOT to be kidding me.
I know what this means...I will be sharing my bed with my grandma for sure and just there will be no escape from everyone.
So I maybe said, "okay well maybe when they are there I will head to Miami to stay with a friend".
To which my mom blew up at me and yelled at me saying that I don't give a f*ck about family and I always put my friends first and they just screw me.
Ummm okay.
To which I got so mad....I mean really.
I may have said I will change my flight because that is not relaxing for me to spend my only vacation jammed in a house with 10 people.
To which my mum siad I was being a high maintenance brat and it was my FAMILY.
She also then screamed at me for the money they spent on my flight and I was ungrateful.
And that I think they just have all this money floating around when they don't.
Please keep in mind my parents are going to Florida THREE times between now and Christmas.
This is the cycle of guilt and punishment that does seem to rear its ugly head.
It hasn't happened for awhile so I thought maybe just maybe it had passed.
I am now FUMING.
Ummmm guess what I'm not close with my family.
And if you knew how much my "family" screwed over my parents it is really quite laughable.
AND hello what about Thanksgiving???
I will be spending it ALONE here.
Since family is SOOOOOOOOOOOOOOOOOOO important.
I'm literally so livid and now DREADING this Christmas vacation.
What the HECK did I get myself into.
I can't even describe how angry I am.
With that I'm going to munch on the chocolate one of the CanadaCrew girls brought back from her recent work trip to Switzerland.